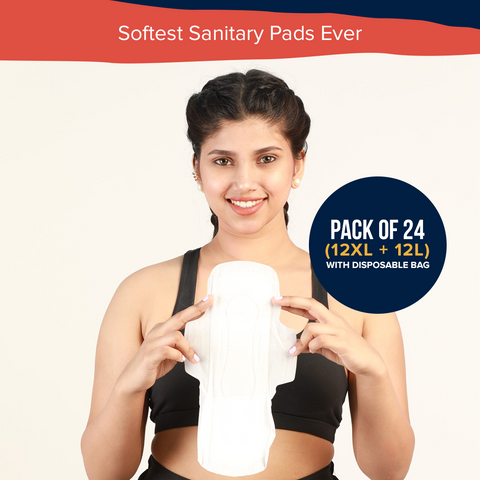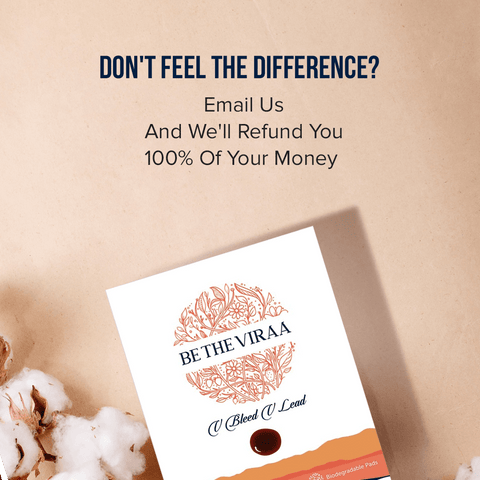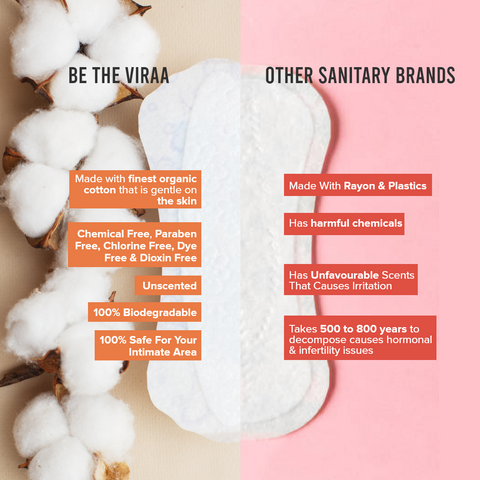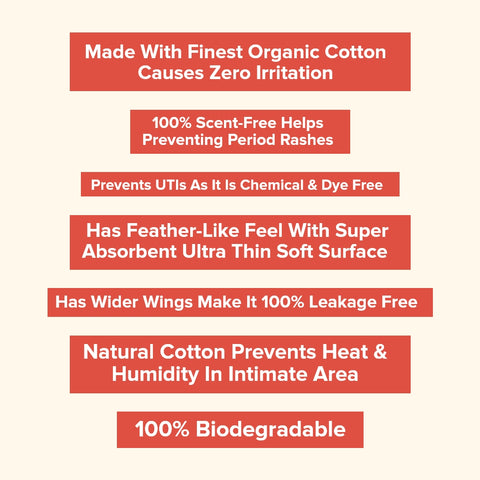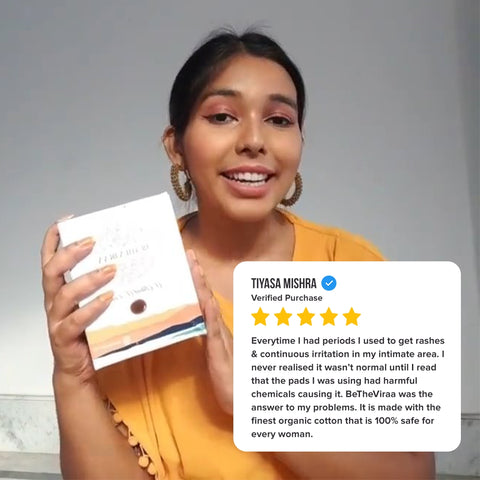 Sanitary Pads | Pack of 24 (12XL + 12L) | With Disposable Bag
BIKINI RAZOR FREE
AVAILABLE SIZES -
XL Size: 320 MM | Large Size: 280 MM
100% RASH FREE PADS
FINEST ORGANIC COTTON
CHEMICAL FREE
SCENT-FREE
Why choose BeTheViraa?
100% organic cotton pads

Ultra-thin and comfy

Wide and long with zero leakage

Dermatologically tested

Easily disposable

5x power absorption formula
Why get our pad subscription?
Hassle-free pad delivery and purchase

Easy cancellation and editing of subscription

100% money-back guarantee on dissatisfaction

BeTheViraa quality assurance

Comfortable period cycle experience
Money back guarantee
Money back guarantee: Didn't find the product up to the mark? Not to worry. BeTheViraa gives you a 100% money-back guarantee. It's a Viraa promise!
100% Safe
DERMATOLOGICALLY TESTED
LEAKAGE FREE
Biodegradable
Directions For Use
Take the pad out of the bg.
Remove the release sheet.
Fix the pad onto the under-wear
How To Dispose
Roll the used pad & seal it with the release sheet.
Place the rolled pad into the disposable bag.
Safely dispose in a dustbin
Irritation free periods
I cannot describe fully how be the viraa pads have helped me. These pads are so soft and comfortable and no odour! No rashes and irritation at all. Also, easy disposable bags are a plus. No turning back to other pads.
I'm grateful for Betheviraa pads. They have provided me with a rash-free and comfortable period
Betheviraa pads have improved my period experience. I no longer dread that time of the month
I've tried other organic pads, but Betheviraa pads are the best in terms of comfort and effectiveness