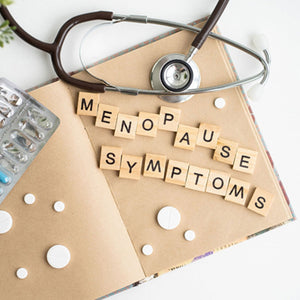 Mother's Day: Help Her Have a Stress-free Menopause
An NCBI report suggests that the rates of premature menopause or menopause before the age of 50 are high in India. There is a significant increase in the number of women attaining menopause in the age group of 30-40 years.
You remember how your mother had the first 'Period Talk' with you. She guided and supported you through the process of your monthly menstruation. Now, it's your time to provide the same comfort and care to your mom. You might have noticed a drastic change in her behaviour. To be frank this is the time when your mother is having a roller coaster of emotions herself.
What is Menopause?
Menopause is a normal part of a women's menstrual cycle. In this period, the levels of estrogen hormone declines and so the periods become irregular, less frequent and then eventually stops. The average age for a woman to get menopause is between 45-50. However, age depends on various factors such as genetics, lifestyle, smoking habits, workout, etc.
Symptoms of Menopause
Some of the common symptoms that your mother at menopause will have are Hot and Cold Flashes, anxiety, mood swings, night sweats, memory issues, dryness in the vagina and changes in sex drive, says an article in WebMD.
During Hot Flashes, your mom will have an increased body temperature which will lead to itchiness and blotchiness in the skin. She will sweat more and might feel weak or dizzy. Sometimes, she might have a sudden cold flash right after she had a hot flash giving her chills. It is advised to note her temperature and track the time when she gets them. This will help you determine when she is more susceptible to have them. Offer her a light shawl or shrug when she is going out. Having extra layers can prove to be handy during a sudden flash. Another important thing to carry is a water bottle sho she remains hydrated.
Help her deal with her mood swings. Surprise her with chocolate or smoothie, this will definitely cheer her up. Go for walks with her, sign a yoga class for her or just have a heartfelt conversation over a cup of chai with her. Help your mother with daily chores during menopause.
She can get terrible migraines at or around menopause. Make sure she eats healthy and full meals and is rested well. Hunger and improper sleep can trigger headaches. The decrease in estrogen levels has an impact on calcium levels leading to weaker bones. To maintain her bone health, she must have calcium-rich food like dry fruits and dairy products.
Just like other 'womanly things', women do not get proper care at and around their menopause. It can be very hard-hitting for them. However, we believe that the younger generation is more aware of these issues and they take part in the 'change drive'. Just like many young women have started choosing organic sanitary pads such as BE THE VIRAA, which are safe both for them and the mother earth, it's time we actually pay attention to the needs of our mother.
They have been a supporting pillar throughout our lives. They have loved us unconditionally through thick and thin. It's time we stand beside her and help her get through her menopause. PERIOD!